On Sunday, March 25th, Edd Gould, creator of Eddsworld, passed away after a long battle with Leukemia. He was a hilarious animator, and a great person as well. His videos kept me laughing through my concussion last year (which was more of a brain injury and left me unable to do anything for a month, and with short term memory loss and headaches for a year), and inspired me to actually DRAW things in my spare time. So thank you Edd, you helped get me through one of the hardest parts of my life, and you didn't even know it.
I only wish I could've been there for you in yours.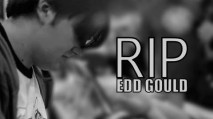 News Poster





Messages

: 863
564292
70


Date of Birth

: 1995-11-10


Date of Entry

: 2010-06-18


Age

: 22


Residence

: Heijarchen Hall

Character


Character Name

:

Ezlo Law




Health

:


(100/100)




Race

:

Minish



Oh god.

That... i never knew he died... D: Rest in Peace, good man.

The avatar is a render by
ZeFlyingMuppet
.
Third-Degree Professional Zombie Assassin





Messages

: 3475
1375439
257


Date of Birth

: 1996-01-17


Date of Entry

: 2010-06-18


Age

: 22


Residence

: Hyrule Field

Character


Character Name

:

D.J. Léhr




Health

:


(123770/123770)




Race

:

Deku



Rest in peace dude.
He was amazing
Warrior





Messages

: 297
255352
133


Date of Birth

: 1991-06-23


Date of Entry

: 2011-11-25


Age

: 26


Residence

: A house

Character


Character Name

:

Nope, Chuck Testa




Health

:


(100/100)




Race

:

Human



RIP Edd, we'll all miss you
Page





Messages

: 137
253149
6


Date of Birth

: 1997-10-20


Date of Entry

: 2011-11-23


Age

: 20


Residence

: Shibuya, Japan

Character


Character Name

:

Royoto




Health

:


(100/100)




Race

:

Hylian




---
Permissions in this forum:
You
cannot
reply to topics in this forum