Okay everybody we all know the we all like anime, so I figured that we should have a topic filled with Anime/Manga reveiws. Anyone can post here.
Because I have my own terms and stuff, I'll post them in the little spoiler thingy so CLICK IT!
Spoiler:

1. I only do stars from 1 to 5 and each number means something.

Very Bad

decent

Average

Very Good

OMG THIS IS AWESOME!!!

2. I often use depth as a way to describe stuff. Depth is basically just saying how much muchiness there is to it. In simpler terms, Pokemon has no depth while FMA is very deep.

3. Inuyasha Syndrom. That means that there is filler after filler after filler.

4. FMA Situation. When a manga is not completed when the anime is started, therefore the anime will branch off from the manga at some point and have a different ending.

5. Anime Gods. The main world animes, such as FMA, Naruto, One Piece, ect. (they are listed on the front page of anime freak)

6. Key. Key is a company in Japan that creae visual novels whichsomethimes turn into animes. The works are often heart felt and sad.
CLANNAD




Themes: Codemy, Drama, School Life, Romance, Harmen
Episodes: 25 plus two ovas
Sequels: Clannad ~After Story~; Clannad the Movie
Summary: When Tomoya is wlaking to school one day, he comes across a fellow classmate who can't seem to get herself to go to school. After saying some encouraging words to her, she ends up joining her and is wrapped up in her dream to jion the theater club, but in order to do that, she must restart the club. The task ends up changing the lives of themselves and others.
At the same time, a girl who lives in a world that ended creates a living soul to keep her company.
Reveiw: Yeah the description make it sound like a lame anime about love and robots, but surprisingly it has depth to it. The characters all have something about them that seems so real and so much like yourself. The anime itself is sad and although it is a "real life" anime, it was amazingly able to combine fantasy themes (girl in a world that ended). The only problem I had with it was the fact that it was made mostly on arcs about each side characters. Some arcs are just anoying, but there are one or two that are just incredible. The anime also sounds girlish, but guys WILL enjoy this supreme anime about family.
Post ninja!





Messages

: 3296
463775
103


Date of Birth

: 1996-08-19


Date of Entry

: 2010-07-01


Age

: 21


Residence

: In my own mess-up wonderland

Character


Character Name

:

Asia




Health

:


(100/100)




Race

:

Hylian



Hetalia: Axis Powers.





theme: Comedy
sequels: none?
Summary: Countries of WW2 in crazy adventures, or even going to different events in history like the Renaissance period, Revolutionary war, and WW1.
Review: One of the funniest animes you could watch, might get over the PG-13 level sometimes, but hey, sometimes it's pretty funny.
Mercenary





Messages

: 2135
485261
22


Date of Birth

: 1996-04-30


Date of Entry

: 2010-08-18


Age

: 22


Residence

: In a box, like a boss.

Character


Character Name

:

Silver Revlis




Health

:


(63670/63670)




Race

:

Human



The Supernatural Investigation Department




1/2
Themes: Horror, Codemy, Drama, Mystery, Supernatural
Sequels: none
Maturaty Level: Teen
Summary: After the death of his grandmother, a Korean detective starts seeing ghost and is thrown into a supernatural world.
Reveiw: I actually only started this manga on saturday. Why? The title was just sooooooo cheesy that I had to see what was so "horror" about it. Well the manga is very good and has the poteincial for some depth, but now we just have a 24 ish detective, suddenly seeing ghost, and joining forces with a man who reminds of a not so gay version of greil for s*Navi*t. I just love his character, Why? Because the main character's name is very long and confusing and he gives the reader a nick name for him: Pikachu. (true fact)
Another thing I love the most is the fact that although it's suppose to be scarey, it's mostly just gore. Plus it's a online comic in South Korea (Hetilia anyone?). And its in full color (that's good since Pikachu is REALLY smexy)
Downsides? Its fairly new so it's only 10 chapter long on Manga fox. And the chapters itself? 6 pages (which I suppose is a good thing since each page is like 5 feet long!)
All in all, Very good.
Post ninja!





Messages

: 3296
463775
103


Date of Birth

: 1996-08-19


Date of Entry

: 2010-07-01


Age

: 21


Residence

: In my own mess-up wonderland

Character


Character Name

:

Asia




Health

:


(100/100)




Race

:

Hylian



Shingetsutan Tsukihime




Themes: Horror, Supernatural, Mystery, Romance
Sequels: None
Maturaty Level: 18+
Summary:
Tsukihime
's follows the perspective of
Shiki Tohno
, a second year high school student of Misaki Town, who suffered a life-threatening injury when he was young. When he regained consciousness, Shiki was able to see "death lines", death lines are the lines by which things will eventually break when they die. This includes the death of inanimate objects as well as living beings and undead beings. Because of his
Mystic Eyes of Death Perception
making him see death lines. Shiki has immense headaches as his mind cannot cope with the sight of death. Shiki must use his powers to confront supernatural beings such as vampires (known as True Ancestor (真祖,
Shinso
?
) and Flock of Death or Followers of Death (死徒,
s*Navi*t
?
))
((PS STOLEN FROM WIKIPEDIA XD))
Review: The intro is really what dragged me into it in the first place. And then as you watch the series, you find the symbolism of the parts in the story. What I love is the different ranks between "The Achients" and the people who were turned into Vampires. And this isn't like Vampire Knight or Twilight. The human vamps can only come out at night. It's only the rare Achients that can actually come out during the day. And I love the strange killing technique of the "Death Lines." and the fact that 'death eyes' or something is a real desises. This is a good series for anyone that likes suspense and slightly gory fighting. The manga is currently On going, so the anime ends long before it does.
Last edited by MenrowSpirit on Tue Dec 07, 2010 10:52 pm; edited 1 time in total

Guest

Guest





Code Geass: Lelouch of the Rebellion





Themes: Action, Drama, Mecha, School, Supernatural, Military
Sequels: Code GeassLelouch of the Rebellion R2
Maturaty: ADULT!!!!
Summary: After the invasion of Japan by the Brittannian Empire, the country is renamed to "Area 11". The young Lelouch, a Brittannian student living in Japan, accidentally gets caught up in a local terrorist attack against Brittannia, reuniting with his childhood friend Suzaku as well as meeting the mysterious girl C.C. Cornered in a life and death situation, Lelouch accepts a power C.C. offers to him, the ability to order anyone to do anything. Harboring a thirst for revenge against the Brittanian Empire for their actions against his family, Lelouch wages war against the Empire. Using his newfound power and tactical ability, Lelouch goes under the alias Zero in attempts to fulfill his childhood vow, to destroy Brittannia!
((This was taken from anime freak))
Reveiw: When was there a time when I haven't mentioned Code Geass? Never. Code Geass is THE BEST anime I have ever watched. It has everything!!! Action scenes, drama, codemy, school life, EVERYTHING!!!! Now one thing that sets people away from it is the summary. When I was first reading about Code Geass, I thought it sounded cheep and just a stupid thing my brother likes. But Dalex was persistant, so I ended up watching it....and loving it. Even if you don't like mecha or action, there is still love and school life in it. The problems? Code Geass if for adults and there is ALOT of fan service in it. Luckily when I whatched it on anime freak in English, it was censored. Another problem is its depth. You all know me, I love depth, and Code Geass is the deepest ever. But because it's so abpve every one, its debatable on what really happened at some scenes. I can't go on to any fan site with getting flamed on one person's beleif over anothers. (Especially on the second season's ending)
Because so much of this is debatable and......un attractable, I like to tell people this story that I found on wikipedia about Code Geass:
When the first episode was shown during a special test screening, which was attended by Ōkawa, other members of the series' staff, as well as several journalists and other media-related personnel in response to the hype surrounding the series' upcoming release, the audience fell into immediate silence after it ended, followed by "tremendous applause."
Post ninja!





Messages

: 3296
463775
103


Date of Birth

: 1996-08-19


Date of Entry

: 2010-07-01


Age

: 21


Residence

: In my own mess-up wonderland

Character


Character Name

:

Asia




Health

:


(100/100)




Race

:

Hylian



ELFEN LIED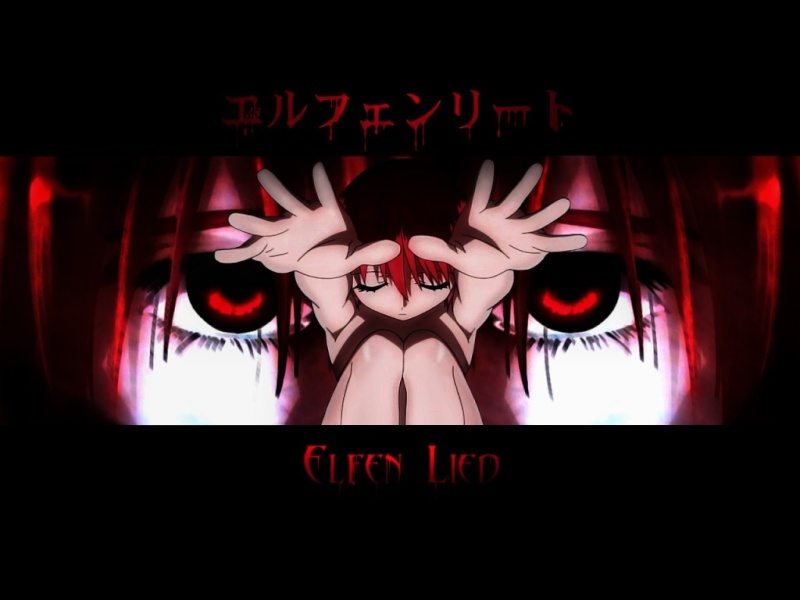 Theme:
18+!!!! for nudity and violence
A little Romance, Action, maybe horror because it's pretty bloody. o_o
Summary:
Elfen Lied
takes place in
Kamakura
,
Japan
, focusing on a new strain of the human race -
Diclonius
, similar to ordinary human beings, yet different at the genetic level and notable due to physical abnormalities, particularly a pair of short horn-like protrusions. One such Diclonius, Lucy, is the main character of the series: initially held in a facility built for experimentation, located off the coast of
Kamakura
,
Kanagawa Prefecture
, she manages to escape and wreak havoc, but is injured in the process, an event which causes her to develop a secondary, child-like personality known as Nyu.
She is found by two local residents, Kohta, who studies at the local university, and his cousin Yuka. They agree to take her in, becoming involved with the numerous, often brutal, attempts to recapture Lucy by a
Special Assault Team
and a number of other Diclonius, who shift from oblivious to murderous frequently. Other characters include Bando, a SAT trooper who was mauled by Lucy and infected with a virus, and Kurama, a carrier of the virus.
While the animated series ends with Lucy confronting a large team of SAT members, after which she disappears, the manga continues by showing the mad plans of Kakuzawa, leader of the Diclonius' research, and his ultimate failure. The world itself is endangered.
NOTE:
Stole of Wiki too. PX
Review:
I loved this anime but it's not for anyone who is scared of blood because there's blood in like every scence. o_o I loved the plot and the little romance that went with it. Lucy is pretty much misunderstood throughout the whole thing and she has 2 different personalities. A really nice side and an evil side that likes to kill everyone. She was picked on as a kid which probably brought that out.
The series was short and really hard to find. I think I had to check 20 different anime sites becuase the episodes are scattered out everywhere. I don't really have much to say about it other then I really like it. x3

On a boat!





Messages

: 160
293619
16


Date of Birth

: 1991-12-13


Date of Entry

: 2010-12-19


Age

: 26


Residence

: On a boat

Character


Character Name

:

Natasha




Health

:


(245/245)




Race

:

Hylian



Legend of the Sun Knight



Themes:
Action
,
Adventure
,
Comedy
,
Fantasy
,
Historical
,
Shoujo
Maturaty Level: Teen
Summary: Meet the Sun Knight, the dashing leader of the Twelve Holy Knights. With his enchanting blue eyes, shining golden hair and dazzling smile, he's the epitome of perfection - the perfect representative of justice and compassion. Now meet the Sun Knight's true self - the cynical, sarcastic man who would rather be anything else than the overbearing Sun Knight who has to speak of the Light God in all his waking hours
Reveiw: ROFL! This is so funny. Sun Knight is base on a light novel written by the same person who wrote 1/2 prince. Sun Knight also has a thing about it that makes sparkely guys a awesome thing. One of my favorite mangas.
Post ninja!





Messages

: 3296
463775
103


Date of Birth

: 1996-08-19


Date of Entry

: 2010-07-01


Age

: 21


Residence

: In my own mess-up wonderland

Character


Character Name

:

Asia




Health

:


(100/100)




Race

:

Hylian




---
Permissions in this forum:
You
cannot
reply to topics in this forum